MEET FLOYD STOKES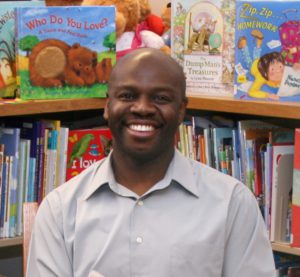 Floyd Stokes, L. H. D., is the author of more than 25 books. He has been visiting schools, libraries, Head Start centers and other community locations to read to children for over 21 years. He has read to children in all 50 states. He is the recipient of many awards.
During the school visits, Mr. Stokes will read his books and sing songs. The length of the visit varies depending on the needs of the organization. The assemblies are good for students up to 5th grade.

It is best but not necessary to split the students into smaller groups such as (Pre-K thru 2nd) and (3rd thru 5th). Not only is the smaller group more manageable but the reading materials and the presentation could be very different.

The visit provides an opportunity to encourage children to read and to discuss the process of writing and creating books. Order books by Floyd Stokes to introduce the students the books to help the visit go better.

Cost – The honorarium varies depending on the costs for travel, lodging, and related expenses.
Awards & Honors
2010
2010 Reily Award – YWCA Harrisburg, PA
Epsilon Sigma Omega Chapter of Alpha Kappa Alpha Sorority, Inc.
AKA Charting the Course Award
2009
Epsilon Sigma Omega Chapter of Alpha Kappa Alpha
Sorority, Inc. – Honorary Senior Salute Award
Central Penn College – Honorary Doctorate of Humane Letters
Harrisburg Public School Foundation – Volunteer Award
2008
Governor's Advisory Commission on African American Affairs The Nguzo Saba Award
Omega Psi Phi Harrisburg Chapter – Citizen of the Year Award
Capital Area Association for the Education of Young Children (CAAEYC) Polished Apple Award (The first non-teacher to receive this award)
James Patterson Page Turner Award
2007
John F. Kennedy High School in Mound Bayou, MS renaming the library the Floyd "SuperReader" Stokes Library
Estamos Unidos/Dauphin County – Community Service Award
Pride of the Neighborhood – Certificate of Recognition
A. W. James – Community Service Award
Harrisburg Mayor Comission on Literacy -Champion of Literacy Award
Global Outreach Ministry- Caught in the Act Award
2003
Life Esteem – Harambee Award Kuumba (Creativity)
NAACP Carlisle Chapter -Those Who Make a Difference Award
2002
The Key to the City of Steelton
2000
House of Representatives Citation for the Carlisle Unity Celebration
The American Civil Liberties Union 2000 Civil Liberties Award